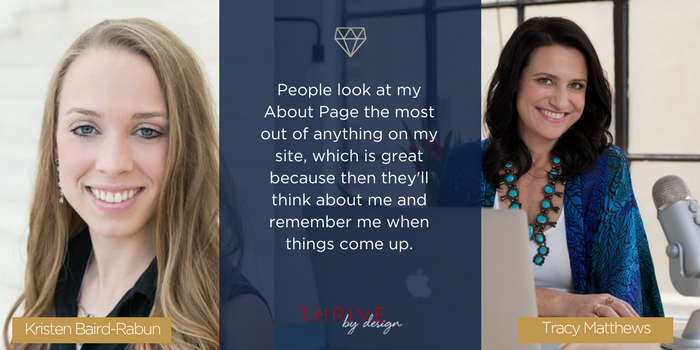 Ever wonder what's holding you back from serious website sales?
Well, truth be told, it might be your website itself!
Never fear, m'dear, because I've got you totally covered!
I am so excited about today's podcast because we have a super awesome guest!
Her name is Kristen Baird, from Kristen Baird designs based out of Savannah Georgia.
She is the Halstead Grant Winner for 2017 and a very awesome member of our Mastermind program. We love having her as part of our Flourish & Thrive community.
One thing she did, among a lot of others, during her Halstead Grant application process was completely revamp her jewelry website!
I gave her a little feedback during a mastermind call and the girl ran with it! Her site completely turned around in a matter of weeks, all on a very small budget!
You don't wanna miss this!
All About You
Get your about page working for you ASAP! Seriously, your about page is the number one most visited place on your site! Having a killer about page will totally increase time spent on your site.
Your about page is a great place to connect and engage with your dream clients. Keep it fun and unique to you. Remember, they want to learn about you, so don't make to too stuffy and professional sounding! Write like you talk and your dream clients will respond.
The More The Merrier
Having a mentor is a super great way to help your business! Having someone who knows their stuff check out your site can be a game changer. They can look at everything from the visual aesthetics to how user friendly it is. They might pick up on things you never even thought of!
It's so great to have someone who can help you along the way! No matter where you're at with your business. They can show you what areas aren't working and guide to success. Seriously, I've seen it happen with my own business and would love to see it for yours, too!
Anything Is Possible
I love sharing stories like this! It is so inspiring what Kristen was able to do it such a short amount of time! She took our advice and ran with it! She leveled up her business practically overnight. How amazing is that?
Remember it's totally doable! Waking up to an inbox full of orders can be a reality! Kristen is proof that anything is possible if you put your mind to it!
Speaking of help…have you checked out our Strategic Online Success Accelerator program yet? It's a year long coaching program where you get 1:1 access to dozens of industry experts to help with anything from website design & copy to accounting and financial advice!
xo, Tracy
P.S.
Nina Designs is today's sponsor and I couldn't be more thrilled! This is super great resource for designers looking for all things wholesale. You can find charms, beads, really all jewelry supplies. Plus they've totally updated their website and it's super user friendly!