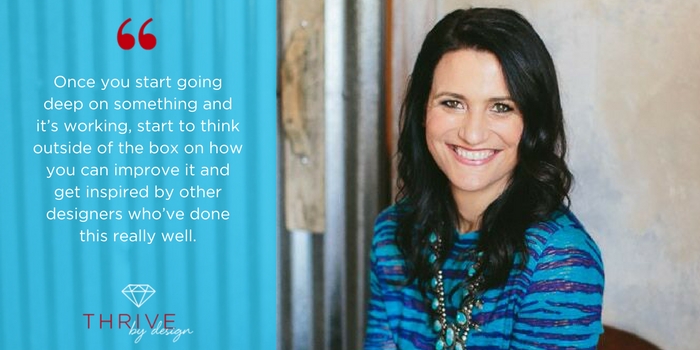 It might sound crazy, but it really is time to start focusing on your Q4 jewelry sales!
Since most jewelry designers make the majority of their sales during the Holiday season (Q4), it's super important!
Planning and staying on the ball is the best way to set yourself up to rock your holiday sales!
Oh, and I did I mention on today's episode we have a ton of resources for you (to help you do exactly that!)
If you're ready to plan for your 2017 holiday jewelry sales, grab your favorite pen and notebook and settle in for a real treat!
Press play to get started!
More Offerings, Not Better
Energy is a valuable asset! Spreading yourself too thin can sometimes make your profitability (and sanity) drain to zero.
Focus your energy on the things that bring you joy! Don't stress over something that isn't super profitable or fun for you. It's your business, do it your way!
Plan (+ Party!)
The Holiday season is a wonderful time to collaborate with a complementary brand! Now is the time to partner with someone like someone who sells handbags or candles and plan a trunk show or house party!
Getting this on the calendar now is super important! Everyone's calendar fills up around the Holidays so get out in front of this to really rock your jewelry sales!
Get Clear on Strategies & Tactics
Here's a pro-tip! Setting goals is great, but have you tried mapping them down to daily tasks? I call it strategies & tactics.
First, set a goal, then find out what marketing strategies you could use to reach that goal. Then decide which tactics (social media, blogging, etc.) you will do to execute on those strategies!
I explain this in more detail on today's episode! Take a listen now!
We have some amazing resources for you to take with you and implement right now for this Holiday season.
You can grab the Sales Amplifier Formula here >>>
Remember to test, test, test! Once you try something, go deep on what's working! Keep tweaking and making sure you're doing what works best for you!
xo, Tracy
P.S.
I want to give another super special thanks to today's sponsor, Halstead Bead.
They're amazing.
They're offering $10 off just for Flourish and Thrive members for orders over $100 or more!
Just use the coupon code: FTA2017
And remember it's not too late to apply for their new jewelry business grant! (free money!)
You have until the end of July to apply, deadline is August 1st!
Links:
Halstead Grant Application (deadline August 1st)
Sales Amplifier Formula
Supercharge Your Jewelry Sales
Diamond Insiders Wait List
Mastermind Intensive
#88 How to Create a Marketing Plan for a Jewelry Promotion
#89 Simple Strategy to Sell More via Email Marketing
#90 10 Content Creation Ideas to Promote Your Next Jewelry Launch