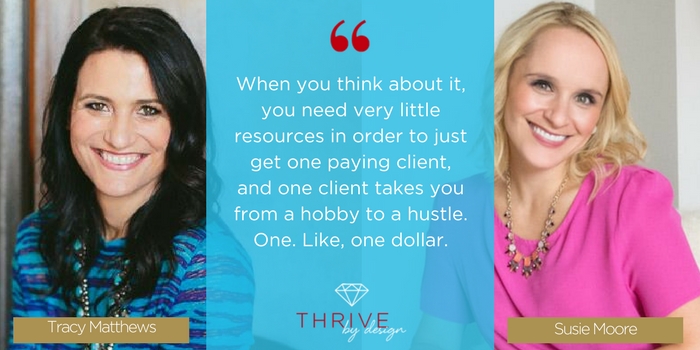 Do you get the feeling you're meant for something more?
Maybe your current job pays the bills, but it's nothing more than that.
You're ready to explore earning a living doing something you're passionate about!
So you're thinking about starting, or building up, your side hustle jewelry business!
Guess what?
It's totally possible when you follow the right advice.
I'm super pumped you found us and that you're listening to today's show!
My guest today is an amazing entrepreneur, Susie Moore. She's a life coach/author based in NYC. She created Side Hustle Academy: The Side Hustle Made Simple. Maybe you've seen her on The Today Show, Forbes, or Marie Claire?
She's here to share how you can pursue your passion project with a very small amount of risk, money, and time!
Listen now to figure out why success isn't always about talent, it's about your willingness to take action!
Zero-Risk Proof of Concept
Gone are the days of taking out a huge loan or risking your life's savings to start a business. With the internet on your side, it's never been easier to start a side hustle selling jewelry and eventually turn it into your career!
You still get to keep your steady paycheck and health benefits while you're making sure this is the right fit for your desired lifestyle. It's a definite no-brainer!
From Hobby to Hustle
Being strategic about your designs and products at the beginning is a simple way to build your jewelry side hustle. Focusing on getting your first client is the only thing you need to worry about when you're starting out.
Start out small with a sample line, get paying clients, and expand from there! Once orders are coming in, you get cash flow and you can reinvest that back into your business!
Success is a Series of Small Wins
Are you waiting to wake up one day to your successful business? So sorry to say, it doesn't work that way! What does work is taking small steps every day toward your goals.
Your jewelry business isn't going to build itself, and it won't happen overnight. Adding a pinch of consistent action with the proper mindset, changes everything before you know it!
Listen to the show for the full details and a little story from a friend of mine who turned her side hustle jewelry business into her full-time career (just like I did!)
xo, Tracy
P.S.
I want to give another shout out to today's sponsor, Whatify.
They offer automated photo testing for Etsy sellers, proven to increase your views by 10% or more! It's really amazing, they're offering a free trial and seriously, if you've been struggling since Etsy changed their algorithms, check it out!
Links:
Whatify
Susie Moore
Susie's Book (Amazon pre-order)
#9 The 3 Key Components to Creating Jewelry Collections that Sell
#88 How to Create a Marketing Plan for a Jewelry Promotion